On Sunday, February 21, 2016 myself along with Richie, Hector, Marvin, and Teejan competed in the 2nd Annual Bang Fitness In-House Powerlifting Meet.
Let me first start off by giving props to Paul Hynes and the Bang Fitness crew for running another well organized meet. I had the privilege of coaching Richie, Hector, and Marvin at the last one and am always impressed by the smoothness and efficiency with which they're run. Paul Hynes, who runs the Bang Fitness Powerlifting Club, has done a great job instilling his passion for the sport in his members and it really shows in their preparation and focus. Great job Paul!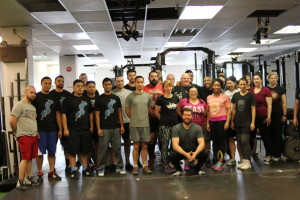 Another huge shoutout to all the people who came out to support us and the other lifters! It really helps to hear you cheer us on and we appreciate your support, both at the meet and in training.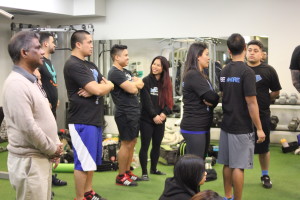 Now, on to the lifting. I'm super proud of our CTS guys as they set PR's in most, if not all, of their lifts! That's a big deal.The competition ranking was determined by Wilks score which is a score given to you based on your total and your bodyweight(basically the stronger you are for your bodyweight the higher your score).
Here are the results:
Richie – Wilks 299.71
Squat – 315lbs Bench – 225lbs Deadlift – 405lbs
Hector – Wilks 261.85
Squat – 360lbs Bench – 200lbs Deadlift – 375lbs
Marvin – Wilks 297.86
Squat – 385lbs Bench – 205lbs  Deadlift – 480lbs
Teejan – Wilks 339.47
Squat – 395lbs Bench – 315lbs Deadlift – 455lbs
Sean – Wilks 319.94
Squat – 275lbs Bench – 220lbs Deadlift – 380lbs
Our wilks scores placed Teejan 1st, Myself 3rd, Richie 5th, Marvin 6th, and Hector 9th – all in the top 10!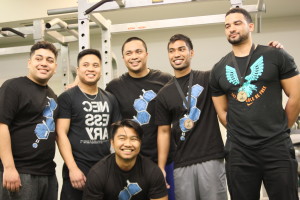 Preparing for the Meet
Powerlifting may just seem like stepping on the platform and putting the "pedal to the metal" to lift the most weight but there's more to it than that if you really want to put out your best performance.
It's one thing to have a good day in the gym and set a record on one lift, but it's quite another to set records on all three lifts on the same day in a matter of hours. This is where peaking properly matters.
Peaking is the act of removing fatigue while becoming more specific in your training in order to show up on meet day prepared to display your maximum strength(on meet day you're at your peak performance).
Basically, over the course of 4-5 weeks we gradually decreased the volume of their training in order to remove fatigue while gradually increasing the amount of weight they were lifting in their sessions to make it more specific to the competition(at the meet you only lift an extremely heavy weight for 1 rep).
What follows this tapering period is a small recovery period where very light weights are lifted just to keep their bodies fresh (the final week leading up to the meet). The result is PR's for everyone!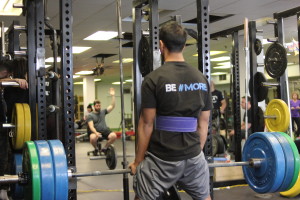 Many factors such as experience, bodyweight, training weights, and the lifts themselves are taken into account in this peaking period, but in general that's what we did.
On meet day, because the event lasted for several hours it was important to stay hydrated and ingest fast acting carbohydrates throughout.
The Real PR
Last year at this same meet Hector sustained a back injury during his final squat attempt which prevented him from finishing. It was a long, hard road back and I'm happy to say that this year he was not only able to finish in the top 10, but he set PR's on all of his lifts. Welcome back!
The Future of CTS Powerlifting

I love powerlifting. Off the top of my head it's the only sport I've competed in where your competitors cheer for you. It's a sport that fosters community and that's what CTS is all about. The others and I will continue to compete and I look forward to the journey. As for the ladies of CTS, we still need a female crew! Many people have called you out!
The Bang Fitness meet continues to be a great atmosphere for beginners to get their feet wet and build a love for the sport so I will definitely keep recommending it for anyone who'd like to try it out.
Thanks again for a great time,
Sean